Get Back on Your Feet Faster with Help From Clarkston's Home Insurance Repair Experts
---
Did your home suffer damage from fire, smoke, water, or a storm?
Post Construction restores homes of all sizes with a commitment to getting your life back to normal as quickly as possible. We understand how difficult it can be to deal with an unexpected disaster, which is why we've developed a process that makes getting your home restored as smooth and stress-free as possible.
---
We Work Directly With Your Insurance Company
As a full-service insurance restoration company, we take care of all of the details of your disaster recovery. From boarding up your property and securing the scene to negotiating the best terms with your insurance adjustor, you can rest easy knowing all of your bases are being covered. Once the restoration starts, we have builders on staff that can perform every aspect of your restoration, so you'll never have to coordinate between multiple contractors of tradesmen.
---
Response Time is Key!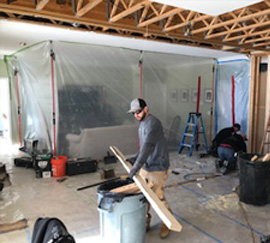 When the unexpected occurs, a fast response is crucial to preventing additional problems. The more time that goes by between a disaster occurring and an insurance repair team responding, the greater the chance for additional problems to arise. If water isn't dried immediately, you can soon find yourself dealing with a mold problem. If the scene of a fire isn't secured quickly, your belongings can be permanently stained by smoke damage and extinguisher chemicals can lead to additional damage. Our team guarantees a quick response to help reduce any additional damage, but there are steps you can take immediately to quickly mitigate issues!
---
What Should I Do Immediately After a Disaster?
Open all the windows to vent out smoke or accelerate the drying process.
Turn off your circuit breaker and main water line.
If your roof is damaged and your home is exposed, place a tarp under the hole to prevent any additional water from entering.
Do NOT move your damaged belongings or disturb the area until they are inspected by your insurance company.
Do not attempt to wipe down surfaces, as improper cleaning can cause further damage.
Call your insurance provider to verify your coverage and report the incident.
Call Post Construction at (248) 249-7235 and our team will be out quickly to begin securing the site and documenting the damage.
---

If you are struggling with insurance repairs and restorations, call Post Construction at (248) 249-7235 today to discuss your options.